This is the wall outlet plug-in type CS Generator that will run on regular house current (100 to 240 Volts A.C.). The output is 24 Volts DC at around 750 ma. This is a great generator for those who don't like to fool with batteries. Yes it is more expensive than our battery powered (DC-51), but still LESS expensive than the majority of AC powered Silver Generators on the market today.
This AC-52 generator is built with the same no-nonsense construction as the battery operated DC-51, with the exception that it runs on houshold electricity. This unit uses the U.S. style plug, so you may need an adapter for your country.
The 24 Volt output is a little lower than the battery version which uses three 9 Volt batteries for a total output of 27 Volts. HOWEVER, the advantage of the new AC version is that the output will not diminish over time as with batteries which must be changed occasionally. The result with this generator is a more consistant and finer quality colloidal silver.
As with our battery operated version, the AC-52 (Basic Kit) comes with TWO 6 Inch .9999 (99.99%) pure silver electrodes, electrode scrub pad, and instruction booklet. It will be pre-tested for voltage output and will be ready to use out of the box. All you need is pure distilled water.
The included instruction booklet contains some basic uses for Colloidal Silver as well as a chart showing the PPM'S (Parts Per Million) produced for selected times, as well as instructions on HOW to use the generator. You may download or view the instruction booklet by clicking on the below link. Left-Click to view (may take a few moments to open because file contains photos), or Right-Click to save to your computer (faster).
I do NOT take phone orders. Please use the information provided below to place your order. Payment is through PayPal only. I do accept checks or money orders (U.S. Residents ONLY) payable to: DANIEL COHRAN. See "CONTACT US" page for further details.
Immediately below are the current buying options, same for U.S. AND Canadian residents only. For INTERNATIONAL ORDERS (outside the U.S. or Canada), scroll down the page to order under the "International Orders" section. ALL PRICES ARE U.S. DOLLARS.
Note: If you need to buy more than one item, just make multiple purchases. We will ensure that you receive all of your items.
| | |
| --- | --- |
| | AC-52 CS Generator Kit (Includes CS Generator, 2 Electrodes .9999 pure silver (14 gauge - .064 mm) and Instructions. $69.95 Includes Shipping. |
| | |
| --- | --- |
| | AC-52 CS Generator Kit with EXTRA set of Electrodes. $94.95 Includes Shipping. |
| | |
| --- | --- |
| | AC-52 CS Generator Kit with TDS Meter. $94.95 Includes Shipping. |
| | |
| --- | --- |
| | AC-52 CS Generator Kit with TDS Meter AND Extra Electrodes. $119.95 Includes Shipping. |
| | |
| --- | --- |
| | ONE WEEK-ONLY SPECIAL: 2 Complete AC-52 Basic Kits. (2 CS Generators, 2 Sets of Electrodes, 2 sets of Instructions) Only $134.95 & Includes Shipping! |
| | |
| --- | --- |
| | COMBO SPECIAL! One DC-51 (battery operated) CS Generator Kit AND One AC-52 CS Generator Kit each with instructions and electrodes. ($124.95 INCLUDES SHIPPING!) |
NOTE: (U.S. & Canadian residents) To purchase the TDS Meter only, OR an extra set of electrodes only, please go to the PRICING/CHECKOUT page to the left.
INTERNATIONAL ORDERS: (outside the U.S. and Canada) place your order below. Payment accepted through PayPal ONLY. Payment in U.S. Dollars only. NOTE: This generator comes with the U.S. style wall plug. You may need to have an appropriate adapter for your location.
| | |
| --- | --- |
| | AC 52 CS Generator Kit (Includes CS Generator, electrodes (064 mm .9999 silver) & instruction booklet) Price: $89.95 US includes shipping. |
| | |
| --- | --- |
| | AC 52 CS Generator Kit with EXTRA set of Electrodes. $114.95 US Includes Shipping. |
| | |
| --- | --- |
| | AC 52 CS Generator Kit with TDS Meter. $114.95 US Includes Shipping. |
| | |
| --- | --- |
| | AC 52 CS Generator Kit with TDS Meter AND Extra Electrodes. $139.95 US Includes Shipping. |
| | |
| --- | --- |
| | WEEKLY SPECIAL! Two AC 52 Complete CS Generator Kits. $174.95 US -Includes Shipping. |
| | |
| --- | --- |
| | COMBO SPECIAL- One DC 51 (battery operated) complete kit AND one AC 52 complete kit. $154.95 US Includes Shipping. |
| | |
| --- | --- |
| | EXTRA ELECTRODES only - One set of two 6 inch pure silver - .9999 (.064 mm) electrodes $30 US Includes Shipping. |
| | |
| --- | --- |
| | TDS Meter only. $30 US Includes Shipping |
The AC-52 Colloidal Silver Generator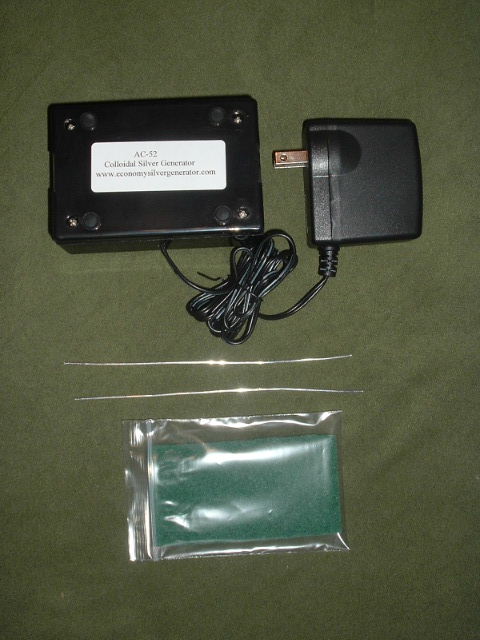 Wall Outlet Plug-in Type
AC-52 Colloidal Silver Generator
Optional TDS test meter
See the HOME page to read more about this meter